At Askinosie Chocolate we started a program called Chocolate University before the first dark chocolate bar rolled off the molding line to engage the students of our factory's neighborhood in our business. We bought and renovated our 100-year-old building in a blighted area of town. Our street, which parallels the railroad tracks, is populated with many social services like homeless shelters, food pantries, an LGBT outreach center, a health clinic, and some new small businesses like coffee shops, a dance studio, and a pizza place.
The single inspiration for starting Chocolate University, however, was the Missouri Hotel which is not a hotel but the largest homeless shelter in our community. It is a block from our factory and home to about 80 children on any given night. We were inspired to start Chocolate University programs in the nearby elementary and middle schools and at the Missouri Hotel. The students get hands on experience in our chocolate factory, learn about small business, and we hopefully inspire them about a world beyond their own.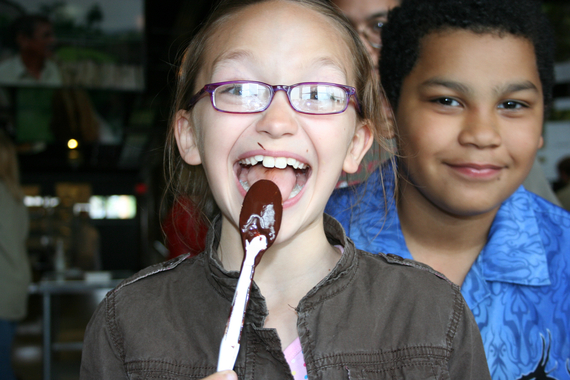 Our high school Chocolate University program is open to juniors and seniors in our city – Springfield, Missouri. This past year about 70 applicants competed for 13 spots. We have a Chocolate University advisory board which assists in the selection process consisting of essays, recommendation letters, and finally, interviews. This year, 6 of the students are private pay (funding the experience themselves) and 7 of the students are full scholarship, based on financial need (funded completely by Askinosie Chocolate fundraising efforts). The program has many generous donors across the country who share my passion: that we can change the world by exposing bright young people to the developing world, which not only changes their lives but the future communities where they will live. The cost for the high school program is about $4,000 per student.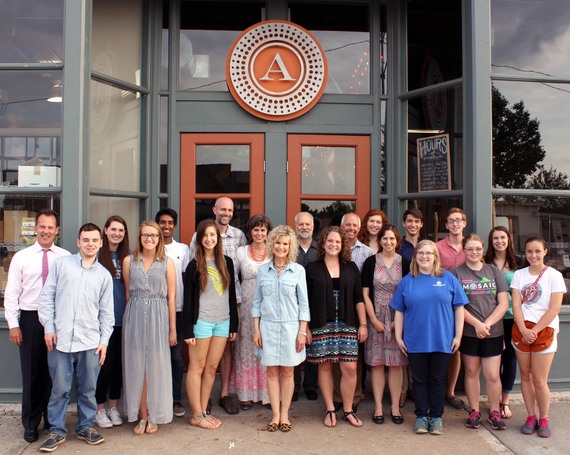 Side note about how easy it is for small businesses to raise money for causes they are passionate about. Our donors make tax deductible contributions to the Chocolate University Fund at our local Community Foundation of the Ozarks. It took about ten minutes to set up the account and anyone can make a tax deductible contribution as long the disbursements from the fund are made to another non-profit institution. The Community Foundation handles all of the accounting, oversight, and IRS compliance. This is a super simple way for small companies to have a large impact beyond their own employee base. The possibilities are endless.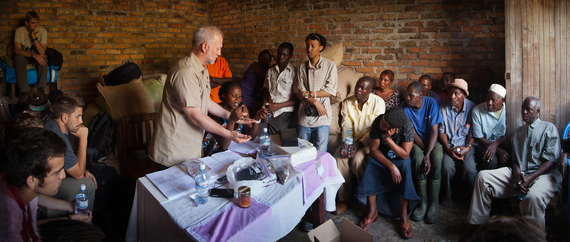 This past week our 13 students have been living a few blocks from our factory on the Drury University campus. Professor John Taylor has been leading them through an intensive experience preparing them for the trip. We began the week with a low key session introducing the students to my personal story and our company history. The curriculum developed by Dr. Taylor includes classes on our business model, analysis of our financial statements, and the role of business regarding social issues. He was assisted this week by Daudi Msseemmaa, the Africa Director for NGO Convoy of Hope. He is an American/Tanzanian and fluent Swahili speaker. He taught the students about Tanzanian culture, religion, education systems, and basic Swahili. We spent last Saturday tasting each step in the bean to bar process as well as every chocolate we make. Dr. Taylor and Daudi also assigned students presentations on various topics related to the program. On Sunday they were physically and mentally challenged at nearby Leadership Ranch with team building and leadership exercises. We also took a lot of time explaining the work that we already do in this remote corner of Tanzania in the village where we source our cocoa beans.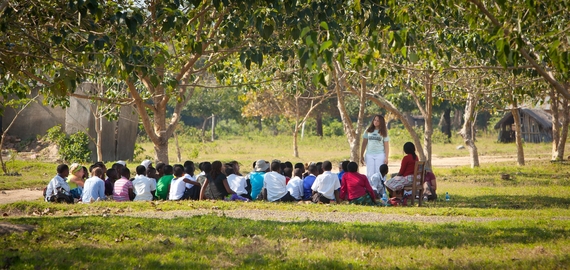 The students separated into 3 groups so they could be research, educate themselves, and be ready to help us in the village next week. We have three groups: Nutrition- which will help us assess our current lunch program (we're sustainably feeding 800 students a day) and put on a seminar for village mothers; Tutoring- this team has created an assessment questionnaire which we will use to evaluate a new Saturday tutoring program we started for girls because the female graduation rate is so low in high school; and finally our Technology group, who will help install some new computers we are bringing to add to the ones we supplied in 2012, complete with Khan Academy Lite.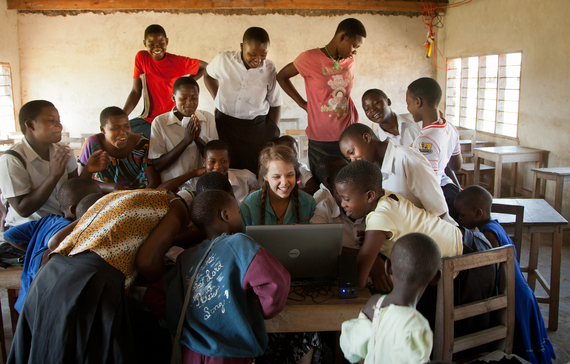 The students also attended our weekly all-company huddle. They observed how we practice open book management, report sales and production scheduling, and importantly, how we celebrate birthdays. Yesterday, to bookend the week, I led a Visioning class and the students wrote their individual Vision for their Tanzania journey using the "Zingerman's/Ari Weinzweig way" of writing down their hopes and dreams for the coming days. [Youcan and should read more about this in Ari's famous book – "Zingerman's Guide To Good Leading, Part 1"- with an entire chapter devoted to this process]
Today they are packing and relaxing at home. Tomorrow they will meet us at the airport and we will embark on our 46-hour journey to our final destination of Kyela, Tanzania. Some of our students have never been outside of Missouri and one has never been on a plane.
Once we arrive in Tanzania we've got work to do, things to learn, people to listen to, friends to meet, new food to eat, children to laugh with, and hikes to take. We will meet up with seasoned traveler and medical doctor, Tom Prater, who's helped me on every trip.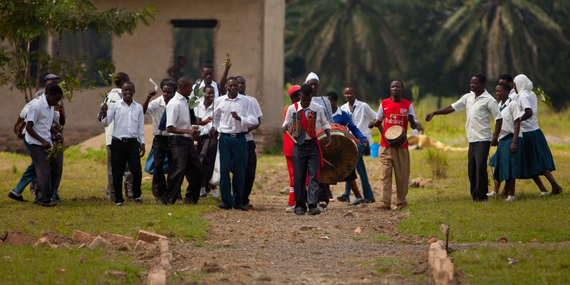 I have logged about 30 trips to cocoa bean origin countries in the past 9 years. I have met farmers, stayed in their homes, and experienced their abundant hospitality … the list of experiences is long. When I fly out with the students Friday and in the coming 12 days I will be soaking it all up as I have many times before, but most of the time I will be watching them. I will watch them transform right in front of my eyes and that is best part of my job. I can't wait.